GIVE THE GIFT OF JOY!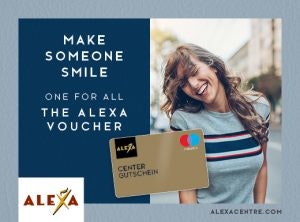 The ALEXA CENTRE VOUCHER is the perfect gift for your loved ones, if you cannot decide what to get them, or have no idea what they might like.
The voucher can be redeemed at all participating shops using the Maestro card system.
Discover something special – or what you have long been looking for – at our 170 shops on 5 levels.
ALEXA Centre Gift Vouchers come in values between € 10 and € 150 and can be purchased at the customer information point located on the ground floor from Mon-Sat between 10.00 am and 8.30 pm.
Gift vouchers can be purchased against cash or by EC card payment.
Gift vouchers are currently not available for purchase online.
A service charge of € 0.50 applies to every gift voucher.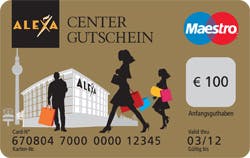 * The EUR 0.50 charge for gift vouchers is a service and administration fee. All gift vouchers are presented in a quality ALEXA gift voucher envelope.
PAYING WITH YOUR ALEXA CENTRE GIFT VOUCHER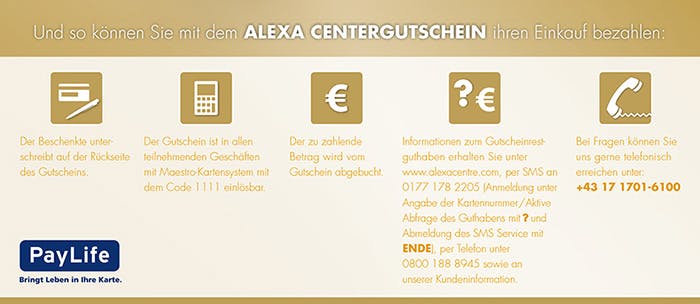 CHECKING YOUR VOUCHER BALANCE
Can't remember how much is left on your ALEXA Centre Gift Voucher?
Check your voucher balance here:
https://b2bpr.vaservices.eu/plb/PayLifeBalanceInquiry/
Or send a text message to:
+49 (0)177 178 2205:
Write your card number in the text message to the above telephone number
You will receive two confirmation text messages
Every time you shop using your card, the remaining balance on your card will be sent to you as a text message
To find out how much is left on your voucher once you have already registered for this service, send "?" to the above telephone number
To unsubscribe from this service, simply text "ENDE" to 0800 188 8945 (German service number)
or contact our customer information point.
If you have any other questions concerning the ALEXA voucher, please call the following number: +43 17 1701-6100.