News
Brands For You – New brands to get to know and try out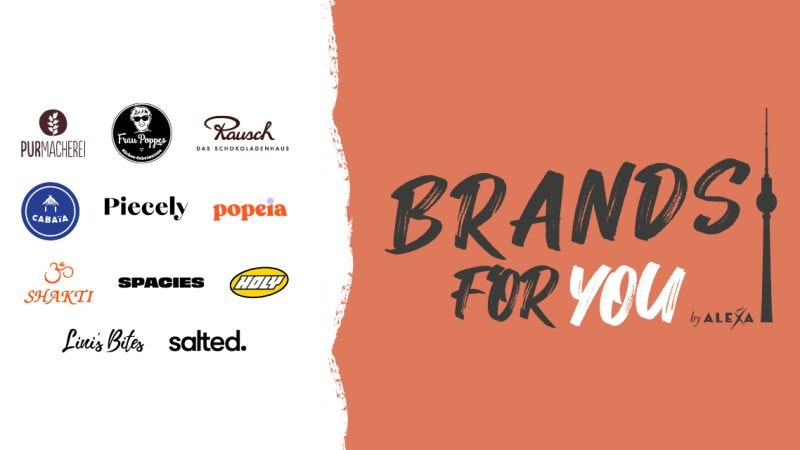 Once again, you can discover new brands at ALEXA from 6.11. to 18.11.2023. Let yourself be enchanted by cool new products at our Brands For You or rediscover classics. You'll find the brands daily from 11 a.m. – 7 p.m. on our Metropolis Court in front of H&M and ZARA. We look forward to seeing you!
The following brands are waiting for you:
Popeia
It all started with socks at Popeia – high-quality basics that don't look unattractive after the first wash. In the meantime, they have expanded their basics to include underwear, tops, shirts and caps. All products are fairly produced in the EU and with your purchase you support a donation of fresh socks to women's shelters.
Cabaia
Here everything revolves around bags with individuality. Each bag can be adapted to your needs thanks to the practical and theft-proof MOLLE system developed by the US Army. They especially focus on recycled materials and are in cooperation with the German Animal Welfare Association.
Purmacherei
At Purmacherei, small and healthy snacks called HaferHAPS await you. The special thing about them: They only need five ingredients, are gluten-free, vegan and do without refined sugar as well as additives and flavourings.
Mrs. Poppes
With Frau Poppes natural seasoning base, you can create juicy, delicious meatballs, meatballs and more in no time at all. The recipe inspiration comes from Mrs. Poppe herself, who went blind at the age of 22 but never gave up cooking. Her son-in-law, a trained chef, was so fascinated and thrilled by her meatballs every time that the idea for the seasoning base was born.
Together, the Brand supports the German Association for the Blind and Visually Impaired (DBSV).
HOLY
With their powder-based soft drinks HOLY Energy®, HOLY Iced Tea® & HOLY Hydration® you get great taste while keeping a clear conscience. All products are 100% vegan, Made in Europe and under 20 calories per serving. In addition, the tubs save more than 90% packaging waste & CO2.
Lini's Bites
Want to snack without a guilty conscience? You can with Lini's Bites! Eileen, the inventor of this brand, has given free rein to her passion for baking and made the most of her forced switch to gluten- and lactose-free foods. Now she sells naturally delicious nibbles. In organic quality, gluten-free, vegan and without refined sugar, additives and palm oil.
Spacies
Bring your breakfast into the 21st century with these cereals. Spacies convince with 96% less sugar, 28% less carbohydrates and 4x more protein than conventional breakfast cereals. They even convinced rapper and singer Cro and in cooperation they created the tempting varieties Coco Dreams and Honey Beams.
Rausch das Schokoladenhaus
Those of you who are out and about at the Gendarmenmarkt in Berlin-Mitte may know it – Rausch das Schokoladenhaus. On three floors and over 1,500 m², you can discover the world of chocolate there. In addition to the new young brands, this year this traditional brand from 1918 will also be taking part and will delight you with its sweet nibbles.
Shakti
Easily bring massage to your home. Their most popular product, the ShaktiMat, with its 6,200 acupressure tips, not only improves your blood circulation but also helps you relax deeply, relieve pain and sleep better.
Piecely
At this Brand For You, you can discover puzzles with guaranteed new designs. Jasmin Nasser founded Piecely to give emerging artists from all over the world a new stage and at the same time to make art accessible to a broad public, and thus also to you, in a completely new way. All puzzles are made plastic-free from recycled paper in Germany.
Salted.
This beauty brand from Berlin offers individual skincare. Because every skin is different and has its own needs. Besides, sustainability is very important to them. All products are vegan and free from animal testing.
Publication
27 October 2023